As part of an overall initiative to reduce its carbon footprint, in 2021 AXA Partners asked Greenly to conduct a carbon assessment of its activities. This assessment has already helped AXA Partners adopt new practices that will help it to cut the CO2 emissions generated by its business. To help better understand the initiative, Jérémy Garandet, Head of Providers Network and Procurement for AXA Partners France and Arnaud Delubac, co-founder of Greenly, take stock of this collaboration from which they have learned a great deal.
Hello Arnaud and Jérémy. Could you talk to us about your respective jobs? 
Jérémy Garandet, AXA Partners France: At AXA Partners France, we manage several thousand partner service providers across the whole country. That way, we can provide our clients with assistance when they need it (breakdown companies, taxis, vehicle rental companies, plumbers, electricians and people service companies). Since we deliver around a million services every year, more than 80% of which are in the automotive sector, we have a key role to play in raising the awareness of people operating in these professions: 75% of our partner service providers are companies which employ fewer than 10 people.
Arnaud Delubac, co-founder of Greenly: Greenly's mission is to enable millions of companies to track their carbon emissions more simply. We have created a digitalised solution which features an automated carbon assessment, a library of action plans and virtuous alternatives, an awareness-raising questionnaire for employees and a complete reporting utility for sharing information effectively with stakeholders. Greenly – which was voted a fintech company in 2020 and awarded certification by France's Ministry for the ecological and inclusive transition – helps companies get their decarbonisation initiatives underway straightforwardly, so they can play their part in tackling climate change.
Greenly came across as both agile and an expert in its field – ideal for helping us take action to cut our CO2 emissions.
What kind of an overall approach is this carbon assessment part of?
J.G.: The environment is core to AXA's priorities. It is no longer involved in the tobacco and coal sectors and (via AXA Investment Managers) is taking action so as to increase its green investments to €23 billion between now and 2023. AXA Partners was also keen to make a significant impact on the environment – particularly since we are responsible for sending out several hundred thousand breakdown vehicles and medical aircraft every year throughout the world. 
So we issued an invitation to tender to have an assessment of our carbon emissions conducted. We wanted a partner capable of processing large quantities of data using a robust methodology, in compliance with the recommendations set out by the ADEME (France's environment and energy management agency). Greenly came across as both agile and an expert in this field – ideal for helping us take action to cut our CO2 emissions.  
So in 2021, Greenly conducted a preliminary carbon assessment for AXA Partners France, assessing its carbon emissions for 2019 and 2020. The partnership continued into 2022, with a carbon assessment being carried out for 2021. 

Have you noticed a growing desire on the part of companies for support in cutting their carbon emissions?
A.D.: Currently, only 20% of carbon emissions generated by companies are tracked and managed. In less than a year, the number of bodies enlisting our services to help them tackle climate change has more than doubled! We have every reason to believe that this trend will continue: starting on 1 January 2023, it will be illegal for a company to claim that a given product or service is "carbon neutral" unless it can produce a complete carbon assessment for it, including a life-cycle analysis.
As a major player in the assistance sector and a company that generates greenhouse gases, we are aware of our responsibility and we are keen to make a real impact.
J.G.: We have also seen growing demand for transparency among our clients and partners as far as the CO2 emissions resulting from our core business are concerned. They want to know what the environmental impact of the assistance services we provide is. As a major player in the assistance sector and a company that generates greenhouse gases,and which uses thousands of service providers (breakdown companies, taxis, plumbers, etc.) throughout France, we are aware of our responsibility and we are keen to make a real impact. The carbon assessment is a mainstay of our strategy for managing our network of service providers.

What method did you use to ensure that the assessment is appropriate for AXA Partners' needs?
J.G.: Greenly had never worked on a core assistance market. So we really did codevelop a tailor-made methodology together. Our business teams and data scientists were extremely helpful: we had to gather together and then make sense of huge quantities of concrete data so it could be fed into the data modelling tools.
A.D.: Once the assessment had been carried out, we identified areas in which improvements could be made and more or less long-term solutions that could be implemented, factoring in AXA Partners' aims, requirements and constraints. This roadmap will be updated on an ongoing basis by our climate experts. AXA Partners can also monitor its CO2 emissions on a regular basis via our digital platform. This way, it can optimally align its business strategy with its climate ambitions.  
 
What tools and information did AXA Partners France make available to Greenly to enable it to carry out this carbon assessment?
J.G.: We shared a certain amount of information with Greenly, such as our spending per purchase category, the number of operations, the mileage that they involved and the types of vehicles used. We then had discussions so as to approve the files and study the associated hypotheses. We had to look at extremely specific details, such as average distance covered by breakdown companies and the types of breakdown company used by our service providers. There came a point when we were faced with the limitations of our own tools. That's when Greenly demonstrated all of its expertise, providing us with the reference frameworks developed by the ADEME. We used them to create a reference model in terms of CO2 emissions.

How did Greenly compile this data in order to conduct the carbon assessment?
A.D.: Once the sources of AXA Partners' carbon emissions had been identified, we classified them. To do this, we use three types of scope. The first covers all of the company's direct emissions, the second covers indirect emissions to do with energy, and the third covers all the organisation's other indirect emissions – particularly ones to do with procurement and logistics. Once these scopes had been properly identified, we were able to group together all the information so as to provide AXA Partners with an overview of its emissions.
Between 2019 and 2021, we cut our real CO2 emissions by 18% for our core business activity.
What are the main conclusions that can be drawn from AXA Partners France's carbon assessment?
J.G.: The conclusions show that we are moving in the right direction. Between 2019 and 2021, we cut our real CO2 emissions by 18% for our core business activity (responsible for 90% of our emissions)! Our success can be attributed to concerted efforts. We are trying to establish what you might call "responsible assistance": what that means is that we are keeping operations and services to a minimum by using things like on-site repairs, remote diagnostics and telemedicine. The first is certainly the most significant example. When on-site repairs are carried out, service providers' emissions are kept to a minimum and customers can then leave with their vehicle. It's win-win across-the-board! If a repair operation is unavoidable, we take care to use clean vehicles and to keep the total distance covered to an absolute minimum. 

What action plan are you considering for the next phase?
J.G.: Carry on conducting assessments every year and track our improvements! We have pledged to reduce our CO2 emissions in line with the objectives set at COP21. That means cutting them by 42% between 2020 and 2030. To reach that target, we would like to raise the awareness of our partner service providers on the issue. That way, they can play a key role in this paradigm shift. So we are going to continue our partnership with Greenly – they are currently developing a service provider-supplier module that is particularly useful for measuring the environmental impact of our services. We really want to go further in the whole assistance value chain and encourage all our partners to follow our lead in cutting carbon emissions.  
Greenly is also continuing to work with AXA, particularly AXA Partners Spain. Consequently, environmental issues are being discussed at length across our group:  employees and the Management Committee have received Climate Fresco training and have followed the AXA Climate online course. At AXA Partners, we are firmly committed to taking action – in terms of raising our teams' awareness and at operational level – and targeting all of our service providers.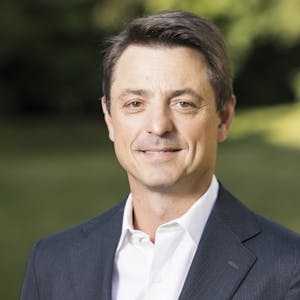 Paul-Antoine Cristofari
CEO of AXA Partners France
As a company and committed stakeholder, we have a key role to play in helping to change the assistance ecosystem in France and enabling a transition towards a sustainable insurance model.
That's why we have decided to go beyond simply analysing our corporate footprint and to incorporate the carbon assessment into the way we manage our profession. Auditing our CO2 emissions is now one of our key indicators – ranking alongside operational and financial indicators. By identifying key areas in which we can make improvements, we will be able to develop the assistance of the future.
I am aware that doing so will involve profound changes to what we do and to our solutions. But we are ready to embrace this challenge and to take action – both for people today and future generations.
More inspiration on the topic?