It's in our culture to be as close to our Business Partners as possible, which is why we offer a "from scratch" approach to tackling your most challenging technical problems. Our approach to Open Innovation involves putting together a select team composed of people inside the company with complementary expertise, and involving external partners, such as a tech start-up or a platform. These partnerships in co-innovation bring a new way of thinking to the task. We adopt a fast-track methodology with a clear timeline, usually of less than a year, for the solution to become operational. In this way we act as a true catalyst for ensuring that you get the best technology available when a ready-made solution is unavailable.
Operational innovation is not just research and development (R&D), or startup incubation or investment; it is about sharing concrete pain points with the business lines and immediate, measurable impact and scalability. We are constantly identifying new tech players and business models that can be strong enablers for transformation. With our Business Partners and startups, we co-design use cases on specific themes, such as on-demand services, AI-powered automation, voicetech, blockchain, and omni-channel customer contacts. We always experiment in real conditions, with Key performance indicators (KPI), real customer journeys and data : all important elements in assessing the efficiency of the tech solution / new business model.  An agile methodology is also key, as is a cross-functional approach aimed at quickly reaching a solution.
Always start from the customer's concerns
When we tackle a new problem for which a technical solution doesn't yet exist, we start by identifying your specific concerns as a Business Partner. We do this by listening to you as well as analysing the huge amount of data we collect from Net Promoter Score, questionnaires and other sources. As part of our standard practice, we organize regular "pain-point reviews" with the all business lines and support services to gather new insights into the most innovative approach to take. That may mean using a new technology or business model.
Since our model is BtoBtoC, we always work with our Business Partners in order to benefit from their expertise. We co-experiment with them to test new solutions. And we consider scalable opportunity and a problem-solving attitude as key factors in innovation, which is only valid if it meets a real need and generates new business.
Identify the right technical partners
The first challenge is to identify the right technical partners. We do this in two ways: by tapping into our existing contacts in the technology ecosystem and by discovering new players, such as promising new start-ups or other tech partners to design and deliver the relevant solution. We also source the appropriate technology, put into place a senior team, makes sure the project is capable of going international and that there is a representative portfolio of existing clients. We talk about scale-up rather than start-up and we look for alignment with all parties.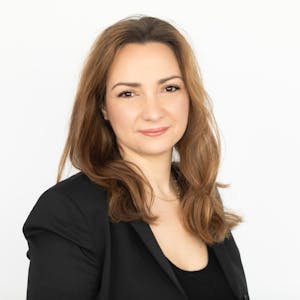 Inji Charkani
Chief Innovation Officer, AXA Partners
Operational Innovation is embedded in AXA Partners' strategy. Combining our Human power with advanced technologies is key to sustain scalable Innovation
4 rules for efficient delivery
We always keep in mind these rules when delivering Operational Innovation:
Time is of the essence: to deliver is about being able to kill fast or scale fast, not only about succeeding.
In complex organizations, expertise is everywhere but simplicity is often hard to find, so we select and aggregate all the expertise we need to deliver.
It is all about business i.e ROI: there must always be a business impact, such as efficiency, cost savings and customer satisfaction. That means carefully measuring the pain points before and making sure the solution is an answer to them.
We seek to understand the capabilities of the startups in order to fully benefit from their expertise and to build a strong dynamic. And we work with them as true technology partners, aligning our interests and building the solution together.
Define the right objectives and KPIs
It's important to set the baseline KPIs but also to define the objectives: how will we define success? We associate our Business Partner in the task force because we believe true innovation is only achieved working closely with others. Being operational also means avoiding the "sandbox syndrome", or playing with ideas and ignoring reality, by addressing early on tough questions and potential problems regarding data access, GDPR and IT security. We also fast track due diligence in order to deliver quickly and to reduce risk exposure on security, legal and data privacy issues. And we involve all stakeholders to progress with new versions of the solution, rather than getting blocked on one.
You could say that we are in "perpetual motion" to imagine future forms of collaboration and to integrate emerging technologies. We do this by being in constant touch with innovative partners in the technology ecosystem and trusting them to provide the solutions we cannot build alone. By leveraging our expertise and our experience curve, we can build innovative new assistance and insurance solutions.